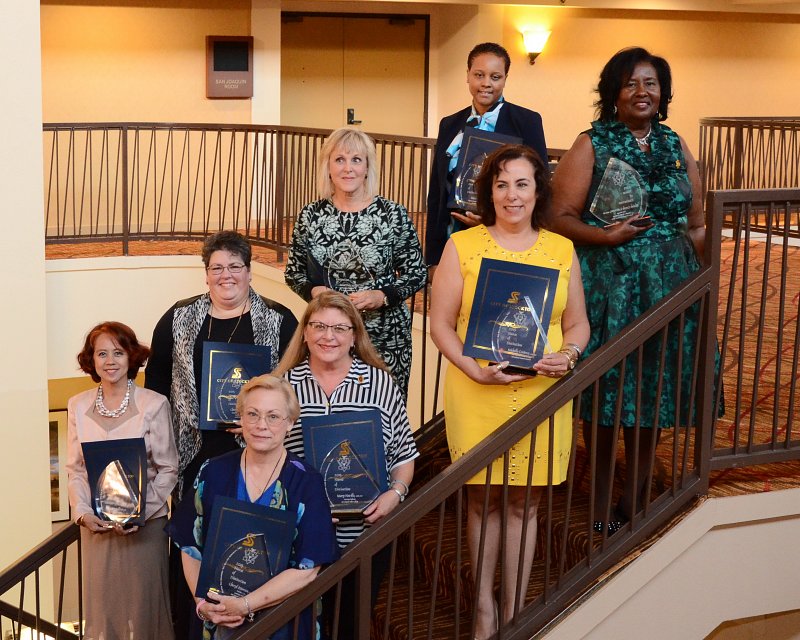 A Tribute to Nurses of Distinction
Each year Alpha Phi Chapter proudly presents outstanding registered nurses. These nurses have distinguished themselves through their achievements and contributions to the nursing profession and to the health of the community.
One Hundred Two (102) nurses, men and women, reflecting diversity of background and area of expertise, have been honored since 2005. Honorees include staff nurses, administrators, educators, public health, critical care, emergency, reproductive health, medical/surgical, pediatric, school nursing, etc.
You are cordially invited to join us in honoring these skilled, innovative, dedicated and compassionate nurses at an exciting banquet which takes place annually in October. The next banquet will take place on October 30, 2016
Please feel free to nominate an outstanding registered nurse by filling out the nomination form.
Back Row:
Marjorie Quillinan, RN - Staff Nurse Pre-op/PACU - Renaldi Surgery Center
Cheryl Schutt, BSN, RN - Statewide Chief Nurse Executive, Healthcare Services - California Corrections
Susan Pirie, RNC-OB - Lactation Consultant - Dignity Health St Joseph's Medical Center
Nicole Bell, RN - Program Manager, Bariatric Services - Dameron Hospital
Front Row:
Cheryl Peterson, MSN, RN - Cardiac Care, Associate Professor - San Joaquin Delta College
Mary Neville, BSN, RN - Nursing Professor - San Joaquin Delta College
Michelle Cordova, BSN, RN - Nursing Department Manaager - San Joaquin General Hospital
Elaine Carol Lawrence, MSN, RN - Case Manager, Complex Chronic Conditions - Kaiser Permanente Offices
Past Nurses of Distinction
Maureen Abaray, RN, FNP-C, CDE (07)
Bonnie Alexander, RNC (14)
Manny Alfonso, MS, RN, CNS (07)
Debra Amos-Terrell, MBA, MA, BSN, RN (14)
Virginia Antaran, MSN, RN (10)
Gayle Asuncion, BSN, PHN, RN (11)
Jackie Bagatta, MSN, RNC (08)
Brandy Balch, BS, RN (08)
Barbara Barney-Knox, MA, BSN, RN (10)
Gayle Beasley, RNC (06)
Donna Beckman, BSN, RN, CSN (14)
Anna Belle Benavidez, BSN, RN, CSN (14)
Monica Biley, MPA, BSN, RN (12)
Erlinda Bolor, MN, RN (12)
Occeletta Briggs, MS, RN (05)
Sister Lisa Brown, OSF, BSN, RN, FCN (12)
Robin Brummitt, MSN, RN (13)
Norma Burgess, BSN, RN, FNP-C (07)
Regina Burgos, MSN, RN (13)
Kelly Butler, MSN, PHN, RN (11)
Mary Ann Cano, MSN, RN (13)
Rose Castellanos, RN, CDE(10)
Rae Gamboni Charos, MSN, FNP, RN (10)
Sheri Coburn, MSN, RN (10)
Patricia Collier, MHS, RN (09)
Mary Jo Cowan, MSN, RN (10)
Barbara Covey, BSN, RN (06)
Georgia Curry, BSN, RN (10)
Michelle Dang, PhD, RN (13)
Sandra Davis, Ph.D, RN (05)
Louis Deloney, BSN, RN (08)
Alice Dickson, RN (11)
Violet Juanita Dutra, MSN, RN (06)
Corleen Estes, BSN, PHN, RN (11)
Dixie Evans, BS, RN (05)
Mateenah Floyd-Okanlawon, BSN, RN (09)
Barbara French, MSN, RN (07)
Kathi Gardner, BSN, RN (11)
Maria Gomez, BSN, RN (05)
Amour Gonzales, RN IV, CDE (09)
Sara C. Goodwin, RN, NP (06)
Barbara Gregory, BS, RN (13)
Amado Guerzo, BSN, PHN, RN (12)
Debra Haas, BSN, RN (05)
Michael Haas, BS, RN (05)
Doreatia Hart, BSN, RN, PHN (13)
Sylvia Ruth Hodge, RN (09)

Kimberly Horton, DHA, MSN, FNP, RN (14)
Karen Ippolito, Ed.D, FNP, RN (11)
Sandra F. Jackson, BSN, RN, CNN (07)
Mary Lou Jenkins, Ed.D, MSN, RN (08)
Pamela Jennings, BSN, RN (07)
Janie Ann Kaiser, BSN, RN (06)
Karen Knight-Frank, MS, RN, CCRN (09)
Nora Cadenas Lamond, MSN, RN, CCRN (12)
Fran Langston, BSN, RN, MHSL (08)
Paula LeVeck, Ph.D, RN (05)
Debra Lewis, MSN, RN (07)
Mike Lime, BSN, RN (12)
Mary Lopez, MSN, RN (13)
Gloria Mendez, RN (05)
Richard Meza, MSN, RN, FNP (07)
Christine Moles, RN (10)
Martha W. Moon, PhD, RN, MPH (14)
Lourdes Moya, BSN, RN (08)
Bonnie McAtee, BSN, RN, PHN (12)
Griselda Olivas, RN (05)
Daisy Otero, MSN, RN, CNS (07)
Bette A. Outlaw, BSN, RN (11)
Shelia Patterson, MBA, RN (10)
Delilah Peppers, RN, (09)
Anita Porter, BSN, RN (09)
Paul Rains, MSN, RN (12)
Karen Rea-Williams, MSN, FNP, RN (14)
Captain Mary Reed, BSN, RN (06)
Sylvia Sanchez, MSN, PHN (11)
Carolyn Sanders, BSN, RN (05)
Candace Simbalenko, BSN, RN (05)
Constance Fitzpatrick Smith, MSN, RN (06)
Willie O. Smith, MSN, RN (09)
Gwendolyn Snell, BSN, RN 12)
Kelly Stump, MSN, RN (07)
Loretta Tefertiller, BSN, RN (12)
Caroline Thibodeau, MHS, FNP, RN (09)
Barbara Thompson, RN, CNN (09)
LaVeda Thompson, BS, RN (08)
Grace R. Tolentino, RN (14)
Kim Tomasi, MSN, RN (11)
Virginia Nicolai Wallace, BSN, RN (11)
Stephani Walton, MS, RN, CDE (08)
Theresa Weaver, MSN, CCRN, RN (11)
Rebecca Werner, RN (10),
Donald J. Wiley, MPH, RN (11)
Anitra L. Williams, DNP, RN, PHN, CCRN (14)